THE STORY

Ever since the start our vision & mission has been the same - A world leading community for skiers development & To grow your life on snow. We are focusing on you. And your turn.
OUR BASES
We currently operate in Sweden and Switzerland, with our HQ in Åre and our Alpine base in Davos Klosters. We will be expanding to more countries and mountains soon and in the years to come.
OUR CORE VALUES
We believe in development through awareness and want all skiers to achieve their full potential.
DEVELOPMENT
We develop individuals through deep respect for all skiers and their ongoing development. We believe that awareness, skiing, personal growth, friendship and joy provide maximum development.
COMMUNITY
We are a community with a family feeling that focuses on closeness, caring and empathy. We create spaces for contacts and meetings, so members can expand their networks throughout the global village.
INTERNATIONAL
Our vision is to be a world leading community for skiers development. Regardless mountain or if you are an amateur, professional or coach we will enable you to reach your full potential as a skier.
SUSTAINABILITY
We are a travel reason and must therefor make conscious choices for the sake of everyone's future. Sustainability permeate the whole of Skiers, emphasising the community, mentors, partners and the world.
MENTORS
Our mentors will develop continually, centred on the individual. They must learn from each other and push for progress. Dialogue, response and trust provide guidance on the way to maximal development.
MEMBERS
Grow on snow. Being a part of Skiers means more than just learning the perfect turn. Our goal is to make skiing and snow a larger part of our members lives and help them grow their lives on snow.
CAFÉ MAGAZINE, #may 2016
"Passion above achievement – training doesn't have to be about improved times or profits. Meet four successful sports personalities who have stopped chasing results."
— Jonna Nordlund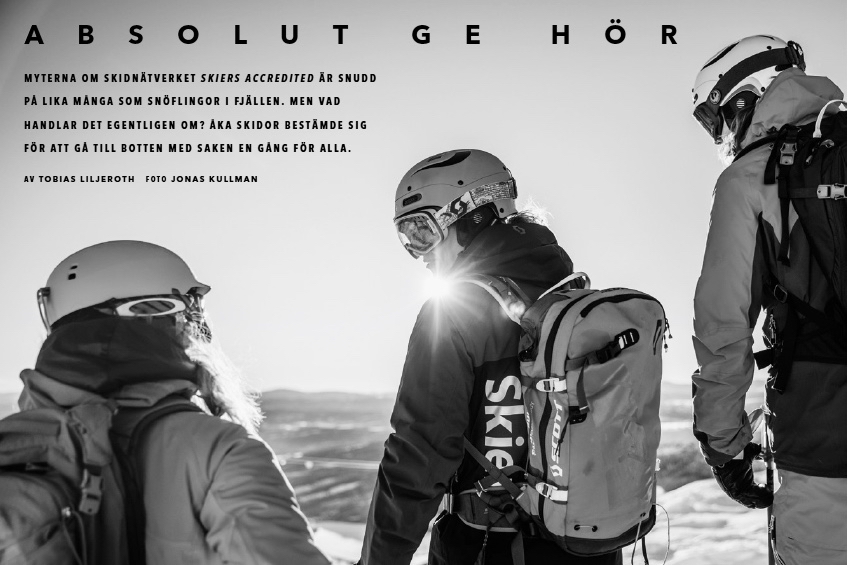 ÅKA SKIDOR, #3 2016
"Absolute pitch – the myths about the skiing community Skiers Accredited are as many as the snowflakes in the mountains. But what is it really about? Åka Skidor decided to get to the bottom of things once and for all."
— Tobias Liljeroth
Read the article 
SKI LODGE BULLETIN, #dec 2015
"It's hard to give a quick overview, but we are basically a ski community that has created to support anyone who wants to develop a deeper awareness of their skiing. They can then evolve in many aspects of the sport."
— Tobias Granath
Read the article 
SKIERS SCHOLARSHIP/CSR
To date, the scholarship/CSR has donated SEK 650,000.
CSR
• POW Protect Our Winters
• Active Life Foundation
• Statsmissionen
• Skiers Left
• Musikhjälpen
• The project "Alla på snö"
• Andreas Franssons Memorial Fund
• Charity Gala - Pre-Ski Gathering
Scholarship
• Ski Knowledge Through Science
• Filip Sundvisson
• Sanna Wikberg with friends
• Victor Lundström
• Linus Mattsson
• Elin Blomquist
Until 2013, the winner was selected from the Swedish ski instructor examinees. We then decided to look more widely and to do what we can to work with CSR. The scholarship is for people who have made, or who will make, an impact in the ski world – for those who look beyond boundaries. Both the scholarship and CSR vary, but start at SEK 5,000.